Know in advance, if the elevator IS working.
Currently, more than 3,300 German train stations are making the real-time data of their elevators available. This data is integrated into the Wheelmap. More elevators will follow. Our goal is to improve barrier-free mobility in as many areas of life as possible. You can become part of our mission!
participate
Make elevator information omnipresent
Real-time Information about the status of the elevator should be everywhere available. In train stations, office buildings, shopping malls and other places of daily life. Providers of existing mapping services (such as google maps) should integrate the information into their systems. 
The Elevate Delta project creates the data infrastructure for this purpose by developing data standards and making elevator information from various data providers accessible and harmonized.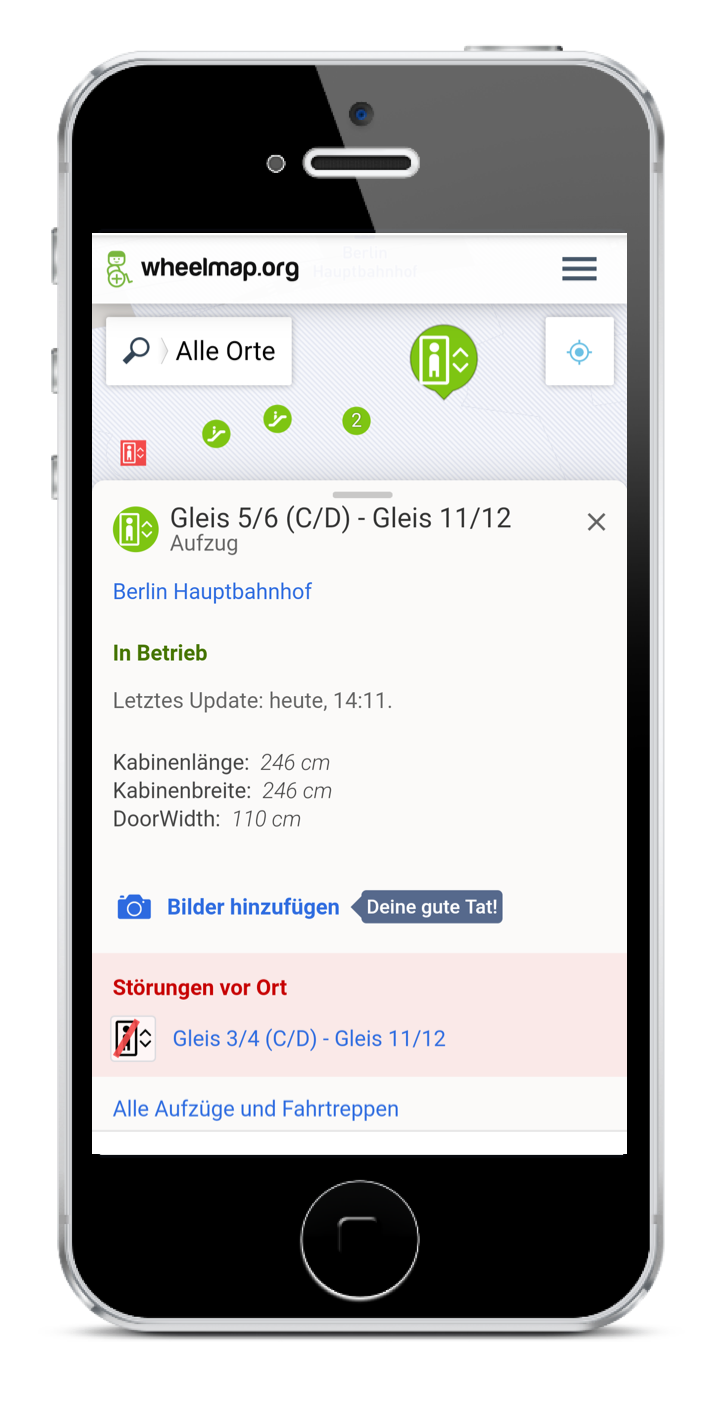 We combine digitalization and social sustainability.
The disclosure of data on elevators adds enormous social value. Why?
Digitization becomes tangible. Smart Cities get a concrete use case.
Citizens can inform themselves in advance whether a particular elevator is working or not. Therefore, they experience less frustration and can plan accordingly.
Knowing if an elevator is currently working is not only useful for people that depend on a wheelchair. It is also useful for families with prams, for people with walkers or travelers with heavy luggage.
The Berlin NGO Sozialhelden e.V. laid the foundation for the Elevate Delta project back in 2012. 
The project received the German mobility award and the German sustainability award for research.
Raul Krauthausen (the founder of Sozialhelden) and Holger Dieterich (member of the board of directors) explain the project Elevate Delta and how it can enable new services worldwide.
Share your elevator data, via API, XML feed, CSV export etc.
(For transport services, manufacturers and other data owners)
You want your elevator data to be available? We will take care of the rest.
(For tenants and owners of a building)
With our sensors, even older elevators can be digitized
(For owners of elevators)